John Locke - Wish List
Здесь можно скачать бесплатно "John Locke - Wish List" в формате fb2, epub, txt, doc, pdf. Жанр: Прочая старинная литература. Так же Вы можете читать книгу онлайн без регистрации и SMS на сайте LibFox.Ru (ЛибФокс) или прочесть описание и ознакомиться с отзывами.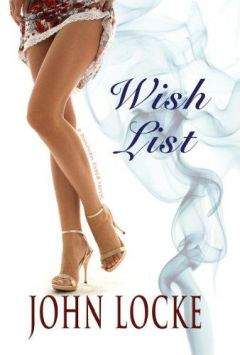 Скачать:
Скачивание начинается... Если скачивание не началось автоматически, пожалуйста нажмите на эту ссылку.
Все книги на сайте размещаются его пользователями. Приносим свои глубочайшие извинения, если Ваша книга была опубликована без Вашего на то согласия.
Напишите нам
, и мы в срочном порядке примем меры.
Как получить книгу?
Оплатили, но не знаете что делать дальше?
Инструкция
.
Описание книги "Wish List"
Описание и краткое содержание "Wish List" читать бесплатно онлайн.
---
Special Smashwords Edition
Wish List
(A Donovan Creed Crime Novel)
by
John Locke
This book is a work of fiction. Names, characters, places and incidents are either the product of the author's imagination or are used fictitiously. Any resemblance to actual persons, living or dead, or to actual events or locales is entirely coincidental.
WISH LIST
Special Smashwords Edition
This ebook is licensed for your personal enjoyment only. This ebook may not be re-sold or given away to other people. If you would like to share this book with another person, please purchase an additional copy for each person you share it with. If you're reading this book and did not purchase it, or it was not purchased for your use only, then you should return to Smashwords.com and purchase your own copy. Thank you for respecting the hard work of the author.
Copyright © 2010 by John Locke. All rights reserved, including the right to reproduce this book, or portions thereof, in any form. No part of this text may be reproduced, transmitted, downloaded, decompiled, reverse engineered, or stored in or introduced into any information storage and retrieval system, in any form or by any means, whether electronic or mechanical without the express written permission of the author. The scanning, uploading, and distribution of this book via the internet or via any other means without the permission of the publisher is illegal and punishable by law. Please purchase only authorized electronic editions, and do not participate in or encourage electronic piracy of copyrighted materials.
The publisher does not have any control over and does not assume any responsibility for author or third-party websites or their content.
Cover Art Design: Telemachus Press, LLC
Cover Art Illustrations:Copyright © istockphoto/Lev Dolgachov (Leg "Lace Dress")Copyright © istockphoto/Josh Blake (Computer "Overworked")Copyright © istockphoto/Ambient Ideas ("Red Smoke Rising on Right")Copyright © istockphoto/Vladm ("Blue Abstract Smoke Trails")
Edited by: Winslow Eliot
http://www.winsloweliot.com
Digital design by: Telemachus Press, LLC
http://www.telemachuspress.com
Visit the author website: http://www.lethalbooks.com
eBook published and distributed by: http://www.smashwords.com
ISBN: 978-1-935670-27-8 (Paperback)
ISBN: 978-1-935670-26-1 (eBook)
"If you Like Wish List, You're Going to Love Saving Rachel!"
"If Dean Koontz collaborated with Alfred Hitchcock at the circus, this would be their brain child."
Dusty Mills, Vintage DM Book Reviews
"For the first time, having read more than 1,000 books, I found myself on a blind-folded, thrilling roller coaster ride with no idea what twists and turns were coming up next. I pride myself in having never been stumped by a work of fiction. Saving Rachel has ruined me."
Todd Rutherford (@PublishingGuru)
"Saving Rachel transcends ordinary storytelling into a class of genius, a stylishly fresh and energetic genre of writing. For those who are unfamiliar with Locke's writing and history, this is a perfect way to introduce you to one of the most creative contemporary talents. I'm certainly now one of his fans for life."
Gary Sorkin, Pacific Book Review
"A truly spectacular read about an absolutely marvelous con! Terrific job!"
Claude Bouchard, author, Vigilante
"I loved Saving Rachel! I could hardly pause for breath! The plot is tight as a drum. The pages flew late into the night; I simply could not stop until the last page!"
Winslow Eliot, author, The Bright Face of Danger
"Five out of Five Stars! Dizzying action! Saving Rachel moves at a frenzied pace and is bursting with plot twists. I highly recommend it."
Melissa Levine, IP Book Reviewers
"Saving Rachel is a fast-moving thriller, technically complex and a star example of intricate plotting."
Elizabeth A. Allen, Clarion Reviews
"While I expected it to be interesting, I didn't expect that I would get so caught up in it! I didn't quit reading until the last page had been consumed!"
Jo Ann Hakola, Book Faerie Reviews
"Five Stars! An intriguing thriller with a healthy dose of morbid comedy, Saving Rachel is a fine fiction read for crime readers."
Midwest Book Reviews
"Saving Rachel is a frenetic, mile-a-minute thriller. Will remind readers of a Hollywood blockbuster full of shakes, rattles, and a high-pitched roar."
Kirkus Discoveries
"John Locke's book Saving Rachel is hot hot hot. This book starts at page one and doesn't let go. The twists, turns, plots, and shots, are jam packed into this short novel. Never has any book kept me so intrigued all night long until it was done. I started at seven and ended at twelve and never once moved from my seat. GREAT JOB. I can't wait to get my hands on more of John Locke's novels."
Johnica Dingus, Baltimore, MD
"I loved this book! I just could not stop turning the pages. Just a wonderful action packed book, you won't want to put it down until it's done and when it finally is done you will wish that it wasn't. A sure must read!"
Katherine Neves, Ft. Lauderdale, FL
"Five out of Five Stars! Bravo! Just when you think you have figured it out, you are wrong…and then wrong again…and again!"
Steven Himes, Ohio
"Here's a must read for your reading list: Saving Rachel by John Locke. Five Stars!"
Leslie Moon, Author, Moondustwriter
"FIVE STARS! This was one of the best books I have read in a long time. I could not put it down. I read these 200 pages faster than any of the last 20-30 books I have read. The plot has so many twists and turns I could not keep count of them."
"FIVE STARS! It delivers me both the action that I crave and the mystery that I find interesting."
"FIVE STARS! This book is great. I downloaded it and read it on my Kindle. I really enjoyed reading it. I did not want to put it down. When I was not reading it I was wondering what was going to happen next. It truly is a great mystery book."
"FIVE STARS! Refreshing idea indeed. Add to this the great storyline, character set ups, and fast pace of the action....and you simply won't be able to put it down."
"FIVE STARS! Saving Rachel is a wonderful action-packed thriller that will have you wishing the book never ends!"
"FIVE STARS! Locke is an engaging and talented writer who can capture your attention and thoroughly entertain."
"FIVE STARS! John Locke did not disappoint me once again! I read his first book, Lethal People, and was very impressed. I became hooked and decided to read another one of his masterpieces and let me tell you it was just as great, if not better, than the first! A perfect action thriller!!"
"FIVE STARS! This is my first read of the Donovan Creed series and what an introduction to the character it is. I could not put the book down, once I started. It did not take me long to get hooked, basically from page one on I wanted to just get to the end and learn how the characters were connected and why someone would think up this evil game."
"FIVE STARS! This book is written in an easy to read style that is perfect for vacation read. If you like thrillers with unexpected twists and surprise endings, this book is for you."
"FIVE STARS! Saving Rachel will sink its grip into you and keep you on the edge from beginning until the end. It is a perfect book for fans of action thrillers!!"
"FIVE STARS! I highly recommend this book to anyone that loves a good mystery, with plenty of plot twists to keep you guessing."
"FIVE STARS! This is a sexy, intriguing, engrossing story that I had trouble putting down. It is definitely worth a read."
"FIVE STARS! This book is well written and easy to read. You won't be disappointed!"
"FIVE STARS! This story is full of mistaken identity, questionable heroes and likeable anti-heroes. For anyone who likes mystery thrillers this is a great book."
"FIVE STARS! Man, I love the main character. He is just as cool as it gets."
"FIVE STARS! What a great book!"
"FIVE STARS! What a wonderful book. I have grown to love the main character Donovan Creed. Once Donovan comes into play it is amazing and WOW what a whirlwind. John Locke tells stories that keep you guessing. Look out crime and adventure fans, you're in for a great ride."
"FIVE STARS! It took off running from the very first second and does not give you a chance to stop. Saving Rachel is fast paced, full of unexpected turns. It really takes some imagination to come up with the events of this read, so you will definitely not be disappointed. I can't wait to read more from this author, but Saving Rachel is going to be hard to top."
"FIVE STARS! The story centers around a cheating husband and what ensues is a thrilling ride through plot twists and turns. You are never quite sure what will happen and just when you think you have got it solved, the story takes another turn. This is a book that I just could not put down and was thinking about when I wasn't reading it. Great story line, great characters and a great mystery!"
"FIVE STARS! I really enjoy reading mystery books and John Locke created a thrilling story with the book Saving Rachel. The plots and twists of the story are very exciting. I really enjoyed this book."
"FIVE STARS! Saving Rachel by John Locke creates the perfect mystery novel. While the imagery can be disturbing, its real life. I was riveted and could not put the book down. This story of infidelity pushes the limits of what you mind can comprehend and you are not sure until the very end, what will happen. The plot twists are exhilarating and something any good mystery should strive to be. If you want to be taken on a fun ride where you really have to think and solve the case, this is the book."
"FIVE STARS! John Locke has made my day with his latest Donovan Creed tale, Saving Rachel. Saving Rachel pushes the envelope of excitement. The seemingly standard cheating husband story quickly turns into a fast paced race to discover who is out to get Sam. You can never be certain of the villains and the saviors. It is not surprising that the good guy/bad guy lines are blurred: after all, this is a Donovan Creed novel. The story is enjoyable because the reader will keep guessing through the twists, and you learn not to assume anything. Poor Sam has an unbelievably bad day and I loved watching the story unfold."
"FIVE STARS! Another Donovan Creed novel by John Locke titled Saving Rachel that has you at the first page and doesn't let you go until it is over. If I were in any kind of trouble I want this guy on my side or looking for me in a good way. This book keeps you locked and pointed and rooting for the good guys."
"FIVE STARS! Saving Rachel by John Locke is a gripping fast paced thrill ride. This novel is easy to read and keeps you going. I did not want to put it down till I had finished it."
"FIVE STARS! I was intrigued from the first page and surprised at how many odd twists and turns there were. Basically, if you want to read something that has you guessing the whole way through - this is the perfect book for you."
"FIVE STARS! The first 30 pages melted under my eyes because I was reading so fast. I had to know what happened next. And that was just the first 30 pages!"
"FIVE STARS! I hardly read books because I'm a such a busy working mother, but I couldn't put this one down. I started reading it and just loved the story. John Locke does a wonderful job of keeping the mystery going so it's not predictable, but he ties it all together in the end. I recommend giving it a read. You will enjoy the ride."
"FIVE STARS! Get ready for a ride that goes a mile a minute from first page to last, you're never sure where the next sentence is going to take you. and then the ending leaves you craving more. Reminds me of books I used to sneak into my room and read when everyone else was asleep."
"FIVE STARS! Great action book! This book was definitely action packed! You were never quite sure what was going to happen next!"
"FIVE STARS! John Locke the author will not disappoint you with "Saving Rachel". He hasn't in the past with his other stories and now he delivers another Donovan Creed Crime Novel that will have you exhausted by the time you are done. It had the 5 key points, action, suspense thriller, mystery, seduction and a bad man. Everything you need to keep you turning the page."
"FIVE STARS! Saving Rachel (A Donovan Creed Crime Novel) (Kindle Edition) by John Locke is a great story. A suspenseful thriller with twists and turns you just don't see coming. This book holds your attention until the very twisted end. Great read!"
"FIVE STARS! "A succession of snippets each leaving you addicted to more," is how I'd describe the brilliant way John Locke tells his story in "Saving Rachel." Just like the old Lay's potato chip ad, "I bet you can't eat just one," I'd say, "I bet you can't read just one." Right from the get-go he creates a seductive, sensuous, and seriously entertaining storyline laid out like a storyboard of an action movie being created."
"FIVE STARS! Saving Rachel is author John Locke's third dance with the talented, sly, funny, and determined Donovan Creed. Dizzying Action! Oh, so good."
"FIVE STARS! I have only recently come to know the fiction written by John Locke and his work will easily be at the top of my favorites list. John has truly created a unique form of literature that is almost in its own genre. If you appreciate books that really move, surprise you on every page and are built upon a premise having layers that make you think, then you will not be disappointed."
---
Похожие книги на "Wish List"
Книги похожие на "Wish List" читать онлайн или скачать бесплатно полные версии.
Понравилась книга? Оставьте Ваш комментарий, поделитесь впечатлениями или расскажите друзьям


Уважаемый посетитель, Вы зашли на сайт как незарегистрированный пользователь.
Мы рекомендуем Вам
зарегистрироваться
либо войти на сайт под своим именем.
Отзывы о "John Locke - Wish List"
Отзывы читателей о книге "Wish List", комментарии и мнения людей о произведении.