Robert Jordan - The Gathering Storm
Здесь можно скачать бесплатно "Robert Jordan - The Gathering Storm" в формате fb2, epub, txt, doc, pdf. Жанр: Фэнтези, издательство Tom Doherty Associates, LLC, год 2009. Так же Вы можете читать книгу онлайн без регистрации и SMS на сайте LibFox.Ru (ЛибФокс) или прочесть описание и ознакомиться с отзывами.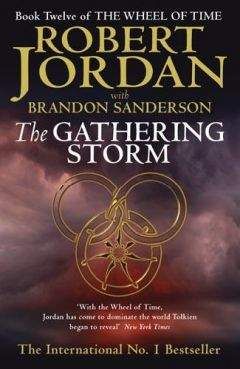 Название:
The Gathering Storm
Издательство:
Tom Doherty Associates, LLC
Скачать:
Скачивание начинается... Если скачивание не началось автоматически, пожалуйста нажмите на эту ссылку.
Все книги на сайте размещаются его пользователями. Приносим свои глубочайшие извинения, если Ваша книга была опубликована без Вашего на то согласия.
Напишите нам
, и мы в срочном порядке примем меры.
Как получить книгу?
Оплатили, но не знаете что делать дальше?
Инструкция
.
Описание книги "The Gathering Storm"
Описание и краткое содержание "The Gathering Storm" читать бесплатно онлайн.
The final volume of the Wheel of Time, A Memory of Light, was partially written by Robert Jordan before his untimely passing in 2007. Brandon Sanderson, New York Times bestselling author of the Mistborn books, was chosen by Jordan's editor—his wife, Harriet McDougal—to complete the final book. The scope and size of the volume was such that it could not be contained in a single book, and so Tor proudly presents The Gathering Storm as the first of three novels that will make up A Memory of Light. This short sequence will complete the struggle against the Shadow, bringing to a close a journey begun almost twenty years ago and marking the conclusion of the Wheel of Time, the preeminent fantasy epic of our era.
In this epic novel, Robert Jordan's international bestselling series begins its dramatic conclusion. Rand al'Thor, the Dragon Reborn, struggles to unite a fractured network of kingdoms and alliances in preparation for the Last Battle. As he attempts to halt the Seanchan encroachment northward—wishing he could form at least a temporary truce with the invaders—his allies watch in terror the shadow that seems to be growing within the heart of the Dragon Reborn himself.
Egwene al'Vere, the Amyrlin Seat of the rebel Aes Sedai, is a captive of the White Tower and subject to the whims of their tyrannical leader. As days tick toward the Seanchan attack she knows is imminent, Egwene works to hold together the disparate factions of Aes Sedai while providing leadership in the face of increasing uncertainty and despair. Her fight will prove the mettle of the Aes Sedai, and her conflict will decide the future of the White Tower—and possibly the world itself.
The Wheel of Time turns, and Ages come and pass. What was, what will be, and what is, may yet fall under the Shadow.
---
In November 2007, I received a phone call that would change my life forever. Harriet McDougal, wife and editor of the late Robert Jordan, called to ask me if I would complete the last book of The Wheel of Time.
For those who did not know Mr. Jordan had passed away, it pains me to be the one to break the news. I remember how I felt when—while idly browsing the Internet on September 16, 2007—I discovered that he had died. I was shocked, stunned, and disheartened. This wonderful man, a hero to me in my writing career, was gone. The world suddenly became a different place.
I first picked up The Eye of the World in 1990, when I was a teenage fantasy addict visiting my corner bookstore. I became a fan instantly and eagerly awaited The Great Hunt. Over the years, I've read the books numerous times, often re-reading the entire series when a new book was released. Time passed, and I decided I wanted to become a fantasy author—influenced, in large part, by how much I loved The Wheel of Time. And yet, never did I think that I would one day get that phone call from Harriet. It came to me as a complete surprise. I had not asked, applied, or dared wish for this opportunity—though when the request was made, my answer was immediate. I love this series as I have loved none other, and the characters feel like old, dear friends from my childhood.
I cannot replace Robert Jordan. Nobody could write this book as well as he could have. That is a simple fact. Fortunately, he left many notes, outlines, completed scenes, and dictated explanations with his wife and assistants. Before his passing, he asked Harriet to find someone to complete the series for his fans. He loved you all very much and spent the very last weeks of his life dictating events for the final volume. It was to be called A Memory of Light.
Eighteen months later, we are here. Mr. Jordan promised that the final book would be big. But the manuscript soon grew prohibitively huge; it would be three times the size of a regular Wheel of Time book, and the decision was made by Harriet and Tor to split A Memory of Light into thirds. There were several excellent breaking points that would give a full and complete story in each third. You may think of The Gathering Storm and its two followers as the three volumes of A Memory of Light or as the final three books of The Wheel of Time. Both are correct.
As of this writing, I am halfway done with the second third. We are working as quickly as is reasonable, and we don't want you to have to wait too long to get the ending we were all promised nearly twenty years ago. (Mr. Jordan did write this ending himself before he passed away, and I have read it. And it is fantastic.) I have not tried to imitate Mr. Jordan's style. Instead, I've adapted my style to be appropriate to The Wheel of Time. My main goal was to stay true to the souls of the characters. The plot is, in large part, Robert Jordan's, though many of the words are mine. Imagine this book as the product of a new director working on some of the scenes of a movie while retaining the same actors and script.
But this is a big project, and it will take time to complete. I beg your patience as we spend these next few years perfecting this story. We hold in our hands the ending of the greatest fantasy epic of our time, and I intend to see it done right. I intend to remain true to Mr. Jordan's wishes and notes. My artistic integrity, and love for the books, will not let me do anything less. In the end, I let the words herein stand as the best argument for what we are doing.
This is not my book. It is Robert Jordan's book, and to a lesser extent, it is your book.
Thank you for reading.
Brandon Sanderson June 2009
For Maria Simons and Alan Romanczuk, without whom this book wouldn't have been possible
Ravens and crows. Rats. Mists and clouds. Insects and corruption. Strange events and odd occurrences. The ordinary twisted and strange. Wonders!
The dead are beginning to walk, and some see them. Others do not, but more and more, we all fear the night.
These have been our days. They rain upon us beneath a dead sky, crushing us with their fury, until as one we beg: "Let it begin!"
—Journal of the Unknown Scholar, entry for The Feast of Freia, 1000 NE
PROLOGUE
What the Storm Means
Renald Fanwar sat on his porch, warming the sturdy blackoak chair crafted for him by his grandson two years before. He stared northward.
At the black and silver clouds.
He'd never seen their like before. They blanketed the entire horizon to the north, high in the sky. They weren't gray. They were black and silver. Dark, rumbling thunderheads, as dark as a root cellar at midnight. With striking silver light breaking between them, flashes of lightning that gave off no sound.
The air was thick. Thick with the scents of dust and dirt. Of dried leaves and rain that refused to fall. Spring had come. And yet his crops didn't grow. Not a sprout had dared poke through the earth.
He rose slowly from his chair, wood creaking, chair rocking softly behind him, and walked up to the edge of the porch. He chewed on his pipe, though its fire had gone out. He couldn't be bothered to relight it. Those clouds transfixed him. They were so black. Like the smoke of a brushfire, only no brushfire smoke ever rose that high up in the air. And what to make of silver clouds? Bulging between the black ones, like places where polished steel shone through metal crusted with soot.
He rubbed his chin, glancing down at his yard. A small, whitewashed fence contained a patch of grass and shrubs. The shrubs were dead now, every one of them. Hadn't lasted through that winter. He'd need to pull them out soon. And the grass . . . well, the grass was still just winter thatch. Not even any weeds sprouted.
A clap of thunder shook him. Pure, sharp, like an enormous crash of metal against metal. It rattled the windows of the house, shook the porch boards, seemed to vibrate his very bones.
He jumped back. That strike had been close—perhaps on his property. He itched to go inspect the damage. Lightning fire could destroy a man, burn him out of his land. Up here in the Borderlands, so many things were unintentional tinder—dry grass, dry shingles, dry seed.
But the clouds were still distant. That strike couldn't have been on his property. The silver and black thunderheads rolled and boiled, feeding and consuming themselves.
He closed his eyes, calming himself, taking a deep breath. Had he imagined the thunder? Was he going off the side, as Gaffin always joked? He opened his eyes.
And the clouds were right there, directly above his house.
It was as if they had suddenly rolled forward, intending to strike while his gaze was averted. They dominated the sky now, sweeping distantly in either direction, massive and overwhelming. He could almost feel their weight pressing the air down around him. He drew in a breath that was heavy with sudden humidity, and his brow prickled with sweat.
Those clouds churned, dark black and silver thunderheads shaking with white blasts. They suddenly boiled downward, like the funnel cloud of a twister, coming for him. He cried out, raising a hand, as a man might before a powerfully bright light. That blackness. That endless, suffocating blackness. It would take him. He knew.
And then the clouds were gone.
His pipe hit the porch's floorboards, clicking softly, tossing burned tabac out in a spray across the steps. He hadn't realized he'd let it slip free. Renald hesitated, looking up at empty blue sky, realizing that he was cringing at nothing.
The clouds were off on the horizon again, some forty leagues distant. They thundered softly.
He picked up his pipe with a shaking hand, spotted from age, tanned from years spent in the sun. Just a trick of your mind, Renald, he told himself. You're going off the side, sure as eggs is eggs.
He was on edge because of the crops. That had him on edge. Though he spoke optimistic words for the lads, it just wasn't natural. Something should have sprouted by now. He'd farmed that land for forty years! Barley didn't take this long to sprout. Burn him, but it didn't. What was going on in the world these days? Plants couldn't be depended on to sprout, and clouds didn't stay where they should.
He forced himself to sit back down in his chair, legs shaking. Getting old, I am. ... he thought.
He'd worked a farm all of his life. Farmsteading in the Borderlands was not easy, but if you worked hard, you could grow a successful life while you grew strong crops. "A man has as much luck as he has seeds in the field," his father had always said.
Well, Renald was one of the most successful farmers in the area. He'd done well enough to buy out the two farms beside his, and he could run thirty wagons to market each fall. He now had six good men working for him, plowing the fields, riding the fences. Not that he didn't have to climb down in the muck every day and show them what good farming was all about. You couldn't let a little success ruin you.
Yes, he'd worked the land, lived the land, as his father always used to say. He understood the weather as well as a man could. Those clouds weren't natural. They rumbled softly, like an animal growling on a dark night. Waiting. Lurking in the nearby woods.
He jumped at another crash of thunder that seemed too close. Were those clouds forty leagues away? Is that what he'd thought? Looked more like ten leagues away, now that he studied them.
"Don't get like that," he grumbled at himself. His own voice sounded good to him. Real. It was nice to hear something other than that rumbling and the occasional creak of shutters in the wind. Shouldn't he be able to hear Auaine inside, getting supper ready?
"You're tired. That's it. Tired." He fished in his vest pocket and pulled out his tabac pouch.
A faint rumbling came from the right. At first, he assumed it was the thunder. However, this rumbling was too grating, too regular. That wasn't thunder. It was wheels turning.
Sure enough, a large, oxen-drawn wagon crested Mallard's Hill, just to the east. Renald had named that hill himself. Every good hill needed a name. The road was Mallard's Road. So why not name the hill that too?
He leaned forward in his chair, pointedly ignoring those clouds as he squinted toward the wagon, trying to make out the driver's face. Thulin? The smith? What was he doing, driving a wagon laden halfway to the heavens? He was supposed to be working on Renald's new plow!
Lean for one of his trade, Thulin was still twice as muscled as most farmhands. He had the dark hair and tan skin of a Shienaran, and kept his face shaved after their fashion, but he did not wear the topknot. Thulin's family might trace its roots back to Borderland warriors, but he himself was just a simple country man like the rest of them. He ran the smithy over in Oak Water, five miles to the east. Renald had enjoyed many a game of stones with the smith during winter evenings.
Thulin was getting on—he hadn't seen as many years as Renald, but the last few winters had prompted Thulin to start speaking of retirement. Smithing wasn't an old man's trade. Of course, neither was farming. Were there really any old man's trades?
Thulin's wagon approached along the packed earthen road, approaching Renald's white-fenced yard. Now, that's odd, Renald thought. Behind the wagon trailed a neat string of animals: five goats and two milkcows. Crates of black-feathered chickens were tied on the outside of the wagon, and the bed of the wagon itself was piled full of furniture, sacks and barrels. Thulin's youthful daughter, Mirala, sat on the seat with him, next to his wife, a golden-haired woman from the south. Twenty-five years Thulin's wife, but Renald still thought of Gallanha as "that southern girl."
The whole family was in the wagon, leading their best livestock. Obviously on the move. But where? Off to visit relatives, perhaps? He and Thulin hadn't played a round of stones in ... oh, three weeks now. Not much time for visiting, what with the coming of spring and the hurried planting. Someone would need to mend the plows and sharpen the scythes. Who would do it if Thulin's smithy went cold?
Renald tucked a pinch of tabac into his pipe as Thulin pulled the wagon up beside Renald's yard. The lean, gray-haired smith handed the reins to his daughter, then climbed down from the wagon, feet throwing puffs of dust into the air when he hit the ground. Behind him the distant storm still brewed.
Thulin pushed open the fence gate, then strode up to the porch. He looked distracted. Renald opened his mouth to give greeting, but Thulin spoke first.
"I buried my best anvil in Gallanha's old strawberry patch, Renald," the big smith said. "You remember where that is, don't you? I packed my best set of tools there as well. They're well greased and inside my best chest, lined to keep it dry. That should keep the rust off of them. For a time at least."
Renald closed his mouth, holding his pipe half-full. If Thulin was burying his anvil . . . well, it meant he wasn't planning to come back for a while. "Thulin, what—"
"If I don't return," Thulin said, glancing northward, "would you dig my things out and see that they're cared for? Sell them to someone who cares, Renald. I wouldn't have just anyone beating that anvil. Took me twenty years to gather those tools, you know."
"But Thulin!" Renald sputtered. "Where are you going?"
Thulin turned back to him, leaning one arm on the porch railing, those brown eyes of his solemn. "There's a storm coming," he said. "And so I figure I've got to head on to the north."
"Storm?" Renald asked. "That one on the horizon, you mean? Thulin, it looks bad—burn my bones, but it does—but there's no use running from it. We've had bad storms before."
"Not like this, old friend," Thulin said. "This ain't the sort of storm you ignore."
"Thulin?" Renald asked. "What are you talking about?"
Before he could answer, Gallanha called from the wagon box. "Did you tell him about the pots?"
"Ah," Thulin said. "Gallanha polished up that set of copper-bottom pots that your wife always liked. They're sitting on the kitchen table, waiting for Auaine, if she wants to go claim them." With that, Thulin nodded to Renald and began to walk back toward the wagon.
Renald sat, stupefied. Thulin always had been a blunt one; he favored saying his mind, then moving on. That was part of what Renald liked about him. But the smith could also pass through a conversation like a boulder rolling through a flock of sheep, leaving everyone dazed.
Renald scrambled up, leaving his pipe on the chair and following Thulin down into the yard and to the wagon. Burn it, Renald thought, glancing to the sides, noticing the brown grass and dead shrubs again. He'd worked hard on that yard.
The smith was checking on the chicken crates tied to the sides of his vehicle. Renald caught up to him, reaching out a hand, but Gallanha distracted him.
---
Похожие книги на "The Gathering Storm"
Книги похожие на "The Gathering Storm" читать онлайн или скачать бесплатно полные версии.
Понравилась книга? Оставьте Ваш комментарий, поделитесь впечатлениями или расскажите друзьям


Уважаемый посетитель, Вы зашли на сайт как незарегистрированный пользователь.
Мы рекомендуем Вам
зарегистрироваться
либо войти на сайт под своим именем.
Отзывы о "Robert Jordan - The Gathering Storm"
Отзывы читателей о книге "The Gathering Storm", комментарии и мнения людей о произведении.